Heading into the 2018 Season many experts believed New Orleans, Carolina, and Atlanta would be playoff contenders with opportunities to make a splash in the postseason. Both Carolina and Atlanta got bit hard by the injury bug and wound up both finishing below 500. New Orleans cruised to the divisional title until they were ousted in the Conference Championship thanks to one of the worst non-calls in NFL history. This season could play out a little differently than the 2018 campaign if both Atlanta and Carolina can maintain their health. New Orleans will remain the favorite as Drew Brees continues his run through the record books. Atlanta is planning on the Matt Ryan/Julio Jones tandem being as effective as ever and competing with New Orleans down the stretch. Carolina needs Cam Newton to regain his MVP form and that starts and ends with Cam staying upright and off the trainers table. So far in 2019, this doesn't look promising with Cam already suffering an injury early on in the preseason. Tampa Bay is also in this division, and will need Jameis Winston to show that he has matured enough to lead this team and keep the Buccaneers consistent as they try to break past the other three teams in the division.
Tampa Bay Buccaneers
2019 Line: 6.5 Wins
2018 Record: 5-11 (4-4 Home, 1-7 Away)
Tampa Bay revamped their coaching staff heading into the 2019 season, so expect to see a lot of changes from their 2018 team. Brice Arians was brought in as the new Head Coach and Todd Bowles will be running the defense for the Bucs. Byron Leftwich, former Jacksonville quarterback, will be calling the plays for the offensive unit. This season will also be a make or break year for fifth year quarterback Jameis Winston. Winston's has been known for his questionable decision making both on and off the field, and will need to show some consistency this season if he intends on securing a long-term contract. If Winston under performs we could be heading into the 2020 season with a new signal caller for the Tampa Bay offense.
Divisional play was tough for the 2018 Buccaneers. They finished with a 2-4 record against the other 3 teams. They were swept by Atlanta, and are currently in the midst of a 5 game losing streak against the Falcons. They split the series with the Panthers, but have only been able to win 3 out of the past 12 meetings with Carolina. New Orleans and Tampa Bay played to a season split, the 4th season in a row they have done so. If Carolina and Atlanta are able to stay healthy this season, it might be an even shakier year for the Bucs in within the division. A repeat record of 2-4 is extremely possible, but don't be surprised if they can't even put together 2 wins against these very competitive teams. As we turn outside of the division, the Buccaneers home schedule is not extremely difficult, especially compared to some other teams. They face San Francisco (Week 1), NY Giants (3), Arizona (10), Indianapolis (14), and Houston (16). San Francisco, New York, and Arizona were all teams near the bottom of the league in 2018. Tampa Bay will have an opportunity to pad their home record with these 3 teams still trying to figure out their identity and build their team back to contention. Indianapolis is also going through a transition year with Andrew Luck no longer taking snaps for the Colts. The Bucs will look to take advantage of Brissett and a Colts team that will not look the same without their former quarterback. Houston should be their toughest challenge to face on their home field. Deshaun Watson and DeAndre Hopkins will look to burn the Tampa secondary and leave the Bucs with a loss in Week 16. Tampa Bay's road schedule will be a little more challenging as they face LA Rams (Week 4), Tennessee (8), Seattle (9), Jacksonville (13), and Detroit (15). Both Los Angeles and Seattle will be near impossible feats for this Tampa team. The Rams and Seahawks were very protective of their home fields a season ago, and should be playoff teams looking to make quick work of the Buccaneers. Tennessee and Jacksonville should be competitive for playoff spots out of the AFC South this season and will not be easy games to take either. Tennessee is looking to improve on their 9-7 record, and the Jags will have a new look offense to compliment their incredible defense. Lastly, Tampa Bay will head to Detroit in Week 15. Detroit went 6-10 in 2018 and they only won 3 out of their 8 games at home. Tampa Bay should approach this game with an optimistic outlook, as they will be very capable of taking one from the Lions late in the year.
Tampa Bay was a dark horse pick for a lot of people last year, and then they let everyone down with a 5-11 record. The 2019 team will be working in a completely new system and hope to make improvements. From what I can see though, the Bucs might still be a year or two away from being competitive. I still see this squad racking up far more losses than they do wins.
My Prediction: 4-12 (UNDER 6.5 Wins)
Carolina Panthers
2019 Line: 7.5 Wins
2018 Record: 7-9 (5-3 Home, 2-6 Away)
Both Carolina's offensive and defensive units will be determined by the health of their star players. Cam Newton has struggled through injuries for a few years now and Carolina fell apart down the stretch without their strong armed QB in 2018. Luke Keuchly on the defensive side will also need to remain on the field to allow this unit to be successful. Concussions have limited Luke's availability, and any more head trauma could very well shorten the career of this promising superstar. Head Coach Ron Rivera moves his responsibility over to the defensive side of the ball as he has assumed play calling duties for the defense. This unit struggled to keep opposing passing games out of the endzone by allowing 32 touchdowns through the air in 2018. Rivera should be focused on getting more pressure on the quarterback to alleviate some of the stress put on the secondary.
Starting within the division, Carolina will need to make some improvements in 2019 if they intend on competing for the playoffs and/or a division championship. In 2018, the Panthers went 2-4 against divisional opponents. They lost both games against Atlanta and split the season series with both Tampa Bay and New Orleans. Tampa Bay is a team that Carolina has seen recent success against winning 9 out of the last 12 meetings. Atlanta has not been nearly as successful of an opponent for Carolina as they have lost 3 straight and only 1 out of the past 7 meetings against the Falcons. New Orleans has also been able to have recent success against Carolina as the Panthers have a 2-5 record against New Orleans in their past 7 matchups. I expect Carolina to be more competitive this season, but they will need to figure out a way to get past the Falcons and Saints. Finishing 3-3 within the division may be a likely scenario for a Panthers team trying to get back to their winning ways. As we look outside of the division the Panthers will a handful of tough opponents at home. They take on LA Rams (Week 1), Jacksonville (5), Tennessee (9), Washington (13), and Seattle (15). Their opening week game against the Rams might be one of their toughest challenges of the year, as the Rams are loaded once again and ready to compete for another Super Bowl. The late season matchup against the Seahawks will be another extremely difficult game for Carolina. Games against Jacksonville, Tennessee, and Washington will be against opponents that are much more comparable to Carolina. Carolina will obviously enter all of these games expecting to get wins, but a likely outcome is 3 wins. Their road schedule is a little less difficult as they face Arizona (Week 3), Houston (4), San Francisco (8), Green Bay (10), and Indianapolis (16). Games against Arizona and San Francisco look like the most winnable for the Panthers. Both Arizona and San Francisco will enter 2019 trying to rebuild from rough 2018 campaigns. Houston will be very challenging as the Texans look like the favorite out of the AFC South and are the reigning champion of their division. Heading to Green Bay is never enjoyable for opponents as Lambeau is a difficult place to play as a visitor. Finally, Indianapolis in Week 16 is a bit of a toss up. We don't know if either Carolina or Indy will be competing for anything more than pride by the time week 16 rolls around.
There is no question that Carolina has a talented roster when it is available. The main reason for hesitancy when talking about this team is their inability to maintain health. Cam Newton and Luke Keuchly will be key components to their success. As a fan, I would love to see these guys out on the field all year making plays, but from an analyst's perspective, I don't have a lot of faith in their longevity.
My Prediction: 9-7 (OVER 7.5 Wins)
Atlanta Falcons
2019 Line: 9 Wins
2018 Record: 7-9 (4-4 Home, 3-5 Away)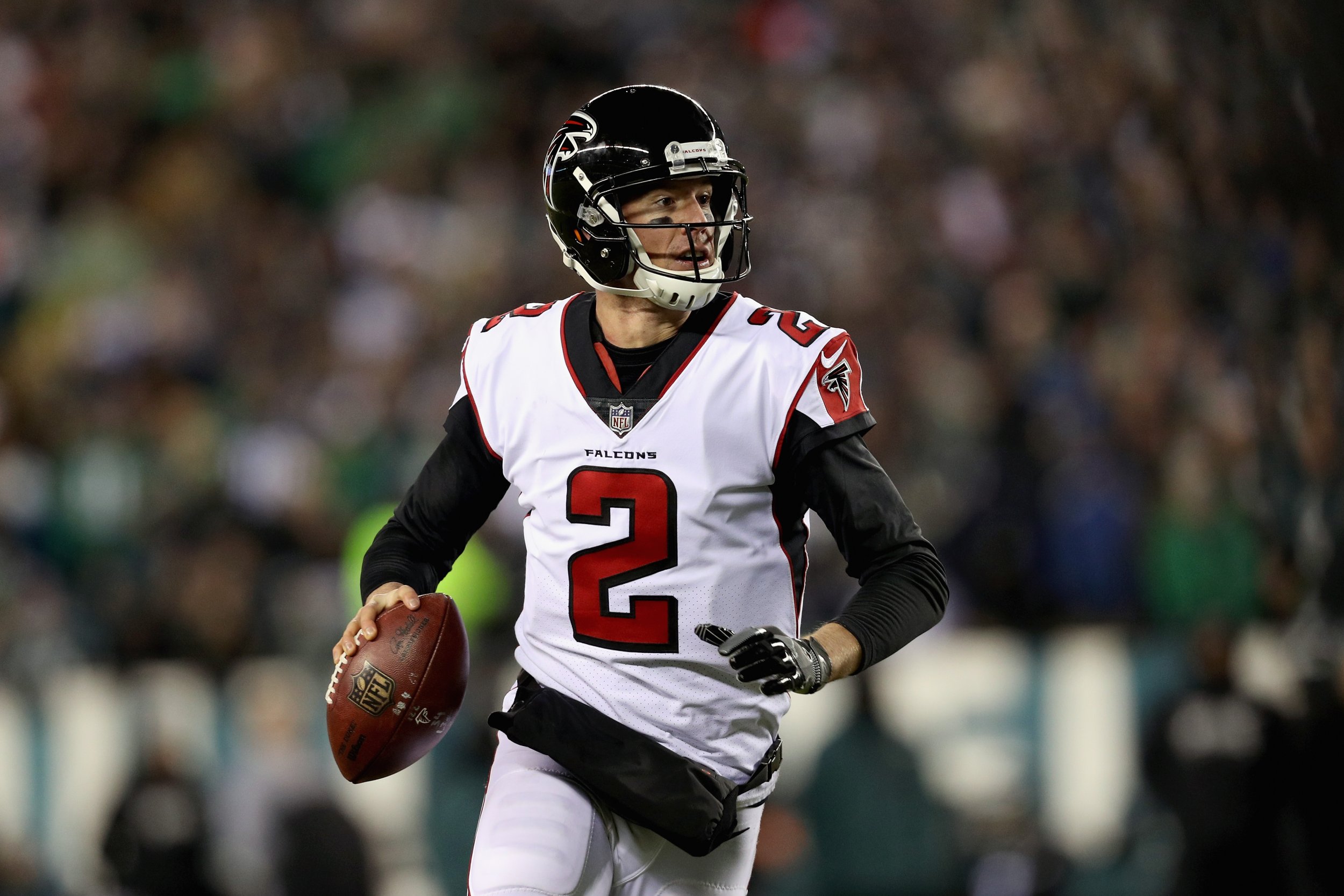 Atlanta is also a team that should have a successful run if injuries don't slow them down. The Falcons will need QB Matt Ryan, WR Julio Jones, and RB DeVonta Freeman to remain healthy throughout the year to keep this offense potent. Atlanta's defense in 2018 was near the bottom of the league, so the only way the Falcon's could stay in games was via shootout. Head Coach Dan Quinn will call the defensive plays this season with the hopes that Grady Jarrett and Deion Jones can stabilize this defensive unit and improve on a dreadful 2018 campaign. The Falcons also brought in Dirk Koetter as the new Offensive Coordinator, which has the potential to make the offense even more of a threat to opposing defenses. Atlanta has all the play makers they could ask for, they will just need to execute and stay on the field in 2019.
In 2018, Atlanta has some reasonable success within the division as they finished 4-2. However, they could not get past New Orleans as they dropped both contests against the Saints. Obviously that means they were able to sweep both series against Carolina and Tampa Bay. The Falcons have won 5 consecutive games against the Buccaneers and there is no reason to believe that this streak will end in 2019. They currently have a 3 game winning streak against Carolina and have won 6 of the past 7 meetings against the Panthers. New Orleans remains their final hurdle. As losers of 3 straight against the Saints, they will need to figure out how to beat this team if they intend on competing for the NFC South crown in 2019. Outside of the division, Atlanta will host Philadelphia (Week 2), Tennessee (4), LA Rams (7), Seattle (8), and Jacksonville (16). Contests against Philadelphia, Los Angeles, and Seattle will test this Falcons team and should likely prove whether the Falcons are primed for another playoff push, or if they are bound for another season of mediocrity. Tennessee and Jacksonville will not be easy games either. Both the Titans and Jags missed the playoffs in 2018, but qualified the year before. Tennessee and Jacksonville should be improved in 2019 so they could challenge Atlanta on their home turf. Their road slate of games outside the division progresses with Minnesota (Week 1), Indianapolis (3), Houston (5), Arizona (6), and San Francisco (15). Their road schedule matches the Falcons up against only 2 teams that qualified for the playoffs in 2018 with their games against Indianapolis and Houston. Indy will look much different without Andrew Luck, but Houston is reloaded and ready for a strong push this year. Their week 1 game against the Vikings will be another difficult one, as Minnesota is only a year removed from a strong playoff push and a division title. Games against Arizona and San Francisco should be on the "easier" end of the spectrum as they continue to rebuild and get young players reps.
Atlanta has a bit of a unique schedule in 2019, as all 6 of their divisional games will be played beyond Week 10, after their Week 9 bye. The first 8 games on their schedule will be played against 5 teams that appeared in the 2018 playoffs. For that reason alone, I can easily see the Falcons starting off slow, but making a strong push at the end of the season. Falcons fans can only hope that their late season push will be enough to bring the Dirty Birds back to the postseason.
My Prediction: 10-6 (OVER 9 Wins)
New Orleans Saints
2019 Line: 10.5 Wins
2018 Record: 13-3 (6-2 Home, 7-1 Away)
New Orleans heads into 2019 after suffering yet another heart breaking defeat in the playoffs. The Saints loss to the Rams on one of the worst no calls in league history has ushered in the new rule which allows coaches to challenge pass interference plays. Aside from changing the rule book, New Orleans had to deal with several departures in the offseason including long-term running back Mark Ingram. Drew Brees returns for another season at Quarterback, and has proven year in and year out that it really doesn't matter who his supporting cast is, he will get his numbers and keep the Saints relevant. Michael Thomas will be highlighted in the Saint's high powered offense, especially after receiving a very rich contract in the offseason. The coaching staff remains in tact from the years past, so there will not be a lot of drastic changes occurring in regards to scheme. Expect a lot of offense from this team, along with a defense that can hold serve and keep the team in tight games.
New Orleans was relatively successful within the division in 2018. They finished with a 4-2 record and cruised to a division title when it was all said and done. However, the Saints only finished with 3 losses in the entire regular season, so 66% of New Orleans' regular season failure came against their biggest rivals. They swept the Falcons and are winners of 3 straight against Atlanta. Atlanta should be much healthier and should challenge the Saints a bit more in 2019. They split the season series against both the Bucs and Panthers. They have split the season series with Tampa Bay for the past 4 seasons. They do have a successful stretch going against Carolina as they have won 5 out of the last 7 against Cam and company. As the Saints look to repeat in 2019 as divisional champs, they can do so by taking care of business against the other 3 teams. Moving outside the division, the Saints host Houston (Week 1), Dallas (4), Arizona (8), San Francisco (14), and Indianapolis (15). New Orleans averaged more than 34 points per game on their home field in 2018 and plan on repeating that same offensive success this season. Both Houston and Dallas will bring very competent defenses to the table early on in the year. However, JaDeveon Clowney might not be suiting up for the Texans by Week 1, so Drew Brees may have an advantage with this matchup. New Orleans will look to avenge their disappointing loss to the Cowboys in 2018, as Dallas held the Saints to 10 points and made Brees look more human than any other opponent was able to do last year. Arizona, San Francisco, and even Indianapolis should be teams that the Saints look to exploit in New Orleans. I expect the Saints offense to overpower these defenses and make their average offensive units maintain pace to have a chance in those games. I can definitely see New Orleans protecting their home turf and pulling off a 5-0 sweep against these 5 teams. On the road they will face LA Rams (Week 2), Seattle (3), Jacksonville (6), Chicago (7), and Tennessee (16). As surprising as this may seem, the Saints were more successful on the road in 2018 than they were at home. However, I believe that this years opponents will provide much more of a challenge than the opponents from a year ago. New Orleans will get their shot at revenge early on with their matchup against the Rams in week 2. The Saints look to prove to the world that they were truly the better team last year, and they deserved their shot at New England in the Super Bowl. I can guarantee 1 thing from this game: the refs won't hesitate to throw a couple flags for PI. Games against the Seahawks and Bears will be very difficult to get through as well. Both Seattle and Chicago were solid playoff teams with great home field advantages. New Orleans' solid road record will be challenged with these couple trips. Jacksonville and Tennessee are games that the Saints should enter as road favorites. Despite the fact that both teams should be improved from a season ago, New Orleans still has a ton of talent on their roster and can take care of business against the best of the best.
As a fan of offense, I have always enjoyed watching Drew Brees and his offensive genius. He continues to defy logic and compete at the age of 40 as if he was in his mid 20's. We all know father time is undefeated though, so will the Saints have enough gas in the tank for another deep playoff push before the inevitable decline begins? Only time will tell, but I have a feeling they have at least another year in them.
My Prediction: 11-5 (OVER 10.5 Wins)