The NFC North gets the honors of opening up the NFL's 100th season with a classic matchup between the Bears and Packers. I can't think of a better way to start off the season than by showcasing the league's oldest rivalry. This division projects to be a tight race throughout the year. The Vikings, Packers, and Bears are all projected within a half game this season, and the Lions, under 2nd year head coach Matt Patricia, like to sprinkle in playoff appearances every couple years. Last season, Matt Nagy led the Bears to their first divisional title since 2010 with quarterback Mitchell Trubisky and the newly acquired Khalil Mack. The Bears hope to repeat in 2019 behind a more seasoned Trubisky and a stout defense. The Packers roll into 2019 with a new head coach in Matt LaFleur and their success will likely fall on the relationship between Lafleur and veteran quarterback Aaron Rodgers. Minnesota took a step back in their first season with Kirk Cousins, but are planning on rebounding this year with a tough defense and an offensive unit that should be more familiar with each other. The Lions have made a handful of Patriot-esque moves in the offseason to bolster their roster and tailor it to the style of Matt Patricia. Matthew Stafford struggled in 2018 and will need to prove some people wrong in 2019 by finding his way in a new offensive scheme.
Detroit Lions
2019 Line: 6.5 Wins
2018 Record: 6-10 (3-5 Home, 3-5 Away)
Matt Patricia did not impress a lot of long-time Lion fans in his first season coaching the team. Going 6-10 and being extremely inconsistent put the Lions out of the playoff hunt early on. The defense should be improved after adding Trey Flowers and Mike Daniels in the offseason. Darrell Bevell was added as the offensive coordinator this offseason as well and should help develop Kerryon Johnson into a more consistent running back through a conservative-style system. The Lions drafted TJ Hockenson early on in the draft giving Detroit a versatile option at the Tight End position. Regardless of the scheme and weapons, Stafford will have to navigate this offense to more success than they had in 2018, as they ranked 24th and 25th in points scored and yards earned respectively.
In 2018, the Lions struggled to win games within the division. They were swept by both the Vikings and Bears. They did, however, find some success against the Packers and took both games, outscoring Green Bay 62-23 through both contests. In 2019, the Lions will need to find a way to string together at least a .500 record within the division to remain competitive. Before last year's sweep by the Bears, the Lions had won 9 out of 10 against their midwest rival. This Bears team is going to be just as good as last year, so finding a way to steal 1 out of 2 would be a successful run for Detroit. Minnesota's defense wore down the Lions in 2018, holding Detroit to only 9 points in each contest. Bevell's offensive scheme against the stout Viking defense will need to put together more points that they did a year ago in order to break their streak of 3 straight losses to this divisional foe. As surprising as it may seem, the Lions have actually had a quite successful run against Green Bay. Detroit has won 4 straight games against the Packers and have scored more than 30 points in all of those games. As I mentioned earlier, winning half of their divisional games would count as a success for this team, but a repeat of last year with a 2-4 record would not come as a surprise to many people. Looking outside the division, the Lions will host the following teams at Ford Field: LA Chargers (Week 2), Kansas City (4), NY Giants (8), Dallas (11), and Tampa Bay (15). The Chargers will be an early test for Detroit as they have a solid roster from top to bottom. Both the offense and defense for LA will be consistent throughout 2019. Beating the Chargers for their home opener would send a statement that the Lions of 2019 are much improved. Kansas City poses an even tougher threat to this Detroit team as they welcome the reigning league MVP in Patrick Mahomes. Patricia will have to scheme up a defensive masterpiece to slow this team down and give the Lions a shot at a W. The Giants will be a game the Lions hope to take advantage of in week 8, as this New York squad is not expected to make a serious playoff run. Dallas is another team that is going to contend to win their division, and unfortunately for the Lions, have had a successful run against the Lions in recent years. Holding Prescott, Elliott, and Cooper in check will be key if Detroit intends on slowing down the Cowboys. Finally, meeting up with Tampa Bay in week 15 gives the Lions a late season opportunity to get another win before heading into the final 2 weeks of the year. Out of this group of games, I see 2 wins being the likely outcome, with 3 wins being a success. On the road, they meet up with Arizona (Week 1), Philadelphia (3), Oakland (9), Washington (12), and Denver (16). Starting off against a rebuilding Arizona team in week 1 may provide this Detroit team with some much needed confidence before the schedule heats up. A win here should be expected, but a loss to start they year may signal a tough 2019 campaign for this team fighting to become relevant. The game against the Eagles in week 3 will be no easy task for this team. Philadelphia looks to be primed for a playoff push and Detroit may not be able to keep up with Carson Wentz and the aggressive Philly offense. The week 9 contest against the Raiders is a game in which the Lions match up favorably. Oakland has made some improvements, but if Detroit hopes to snag a couple road victories, this game needs to be one of them. The final 2 non-divisional road games against Washington and Denver will also be games that the Lions need to come to play in. Both the Redskins and Broncos will be middle of the road teams that Detroit can take advantage of if they play up to their potential.
Overall, the 2019 Detroit Lions are not built for a deep playoff push. I would be surprised by a playoff appearance from this franchise. They do, however, need to take a step in the right direction after not meeting expectation last year and finishing 6-10. Best case scenario for this team puts them at a 9-7 record and clawing for a Wildcard berth. Worst case scenario has them looking at 5-11.
My Prediction: 7-9 (OVER 6 Wins)
Minnesota Vikings
2019 Line: 9 Wins
2018 Record: 8-7-1 (5-3 Home, 3-4-1 Away)
After making a deep playoff run in 2017, the Vikings went out and got Kirk Cousins and gave him a massive contract. The result? An 8-7-1 record and a year of watching the playoffs from the couch. Minnesota didn't have a huge offseason and really haven't made many changes aside from strengthening their offensive line through the draft. They will be relying on Adam Thielen and Stefon Diggs producing more results after a year of working with Cousins. Defensively the Vikings were a top 10 defense and that should hold true in 2019.
Within the division in 2018, the Vikings put together some average numbers which resulted in an average record. They finished 3-2-1 against divisional opponents and watched the Bears run away with the division late in the year. Minnesota dropped both games to the Bears in 2018 including a Week 17 matchup in which they were favored by 6 and ended up losing by 14. The Packers and Vikings played to a tie in week 2 last year, and then Minnesota took care of business in week 12 to finish 1-0-1 against the Packers. Minnesota last lost to Green Bay in Week 16 of 2016, so they continue to trend the right way against their rival from Wisconsin. Detroit was one team that the Vikings pounced on and held down. The Viking defense only allowed 18 points to the lowly Lions last season and are hoping to find their way to 2 more wins against Detroit this year. The 3 home games within the division for the Vikings come within the last 4 games of the season, meaning they could be playing some very meaningful football late in the year. I expect the Vikings to take at least 3, maybe 4 division games in 2019. As we travel outside of the division, Minnesota hosts Atlanta (Week 1), Oakland (3), Philadelphia (6), Washington (8), and Denver (11). The Falcons will be an early test for Minnesota as Matt Ryan and Julio Jones look to stay healthy and rebound from a down year as well. Oakland is a team that Minnesota should match up well against, but will need to keep Antonio Brown in check to slow them down. Philadelphia brings another strong team to Minnesota in week 6, and Doug Pederson will surely have some tricks up his sleeve to trick this stingy Viking defense. Washington and Denver both remain teams playing mediocre football, so if the Vikings want to break out of mediocrity themselves, will need to capitalize on these contests and come away with victories. The Atlanta and Philadelphia games will be critical for Minnesota early on. Dropping these 2 games may end up being very costly for a team that doesn't have a lot of wiggle room. Taking 3 out of these 5 games is a likely outcome, but Minnesota needs more than that to push for the playoffs. Minnesota's non-divisional road schedule is even more challenging as they face NY Giants (Week 5), Kansas City (9), Dallas (10), Seattle (13), and LA Chargers (15). The week 5 matchup against the Giants is the only one I feel confident about for this Viking team this year. New York is still finding their way and by Week 5 we might see a rookie quarterback taking snaps instead of the veteran Eli Manning. Minnesota needs to take this game seriously and not drop a dud against New York because the rest of the schedule is tough. Kansas City, Dallas, Seattle, and Los Angeles combined for a 25-7 record on their home fields. Stealing any of these 4 games would be a huge success for Minnesota, and they will have their work cut out for them for sure.
Minnesota has the potential to be one of the elite teams in the league. Their run in 2017 proved that. However, their mediocre showing in 2018 leaves many people hesitant about this 2019 team and their ability to get over that hump and compete in the playoffs. If Minnesota can navigate their way through a difficult schedule and steal a couple wins I can see them reaching the 10 win mark. If they slip up though, and struggle to compete with last year's playoff teams they could find themselves at .500 or below.
My Prediction: 7-9 (UNDER 9 Wins)
Green Bay Packers
2019 Line: 9.5 Wins
2018 Record: 6-9-1 (5-2-1 Home, 1-7 Away)
Today's Green Bay Packers are going to look a whole lot different than they have in years past. Clay Matthews and Randall Cobb are no longer with the team. Mike McCarthy will no longer be calling plays. And the defense will be littered with new faces that the Packer faithful are not used to seeing. Aaron Rodgers remains the one constant throughout all of the changes this team is going through. Rodgers is capable of playing at an MVP level when he is healthy. 2017 saw Rodgers miss 9 games and in 2018 you saw number 12 fight through a knee injury all season long that clearly hindered his play and effectiveness.
Last season, the Packers poor play was highlighted within the Division. Green Bay failed to win against both Detroit and Minnesota, though there were able to fight to a tie against Minnesota early on. They split the series with Chicago after claiming a Week 1 victory by a point. They ended up playing to a 1-4-1 record against the division rivals. This is not something that Packers fans are used to seeing, and definitely not something that Aaron Rodgers is OK with. In 2019 the Packers will need to improve on a poor record within the division. If this new-look Packers team can pull it together I can see them playing to a 3-3 record within the division which will be an improvement upon their past 2 season in the North. Outside of the division the Packers will host a group of teams they have the potential to beat. They welcome the following teams to Lambeau: Denver (Week 3), Philadelphia (4), Oakland (7), Carolina (10), and Washington (14). Denver is a team comparable to the Packers, but having the home field advantage should make Green bay the favorites in this early season matchup. Philadelphia is likely the most talented team aside from maybe Chicago visiting Wisconsin this season and could give Green Bay some trouble. This is the most likely loss I can see out of this group of games. Oakland has some talent, but Green Bay is planning on the skillset of Aaron Rodgers trumping anything that Oakland can counter with. Carolina will be extremely dependent on the health of Cam Newton, so by week 10 who knows if Cam will still be on the field. Wrapping up the away games outside the division will be Washington who most are expecting to be out of the playoff hunt by week 15. If Green Bay maintains their relevance by week 14, this will be a very important game for the Pack. Similarly to the Vikings, the Packers will have a difficult road schedule in 2019. They play Dallas (Week 5), Kansas City (8), LA Chargers (9), San Francisco (12), and NY Giants (13). I am glad to see a Dallas game on Green Bay's schedule in the NFL's 100th season, as it matches up 2 of the most iconic teams in league history. If Zeke is on the field for Dallas, they should be favored to take this game from Green Bay. However, Green Bay has won the past 3 games against Dallas in the state of Texas. Heading to Arrowhead in week 8 to meet the Kansas City Chiefs may be the hardest game on the Packers schedule. In this one, I don't see Green Bay coming away victorious. Right after their trip to Kansas City, they head further out west to meet the Chargers in Los Angeles. Green Bay hasn't matched up with this team since 2015 when they were still in San Diego. This game will be another tough one as the Chargers look to be loaded heading into 2019. Weeks 12 and 13 the Packers will travel to San Francisco and New York to face the 49ers and Giants. Both of these games should wind up in victories for Green Bay.
Many people are predicting a big turn around for the Packers this season. I have a much more conservative expectation for this team. Their schedule is going to be very tough on them, especially on the road. Their road record was not great in 2018, and that may be a huge downfall for the Packers in 2019. All in all, Green Bay should be much improved, but they might be a year or two away from competing for the division.
My Prediction: 9-7 (UNDER 9.5 Wins)
Chicago Bears
2019 Line: 9.5 Wins
2018 Record: 12-4 (7-1 Home, 5-3 Away)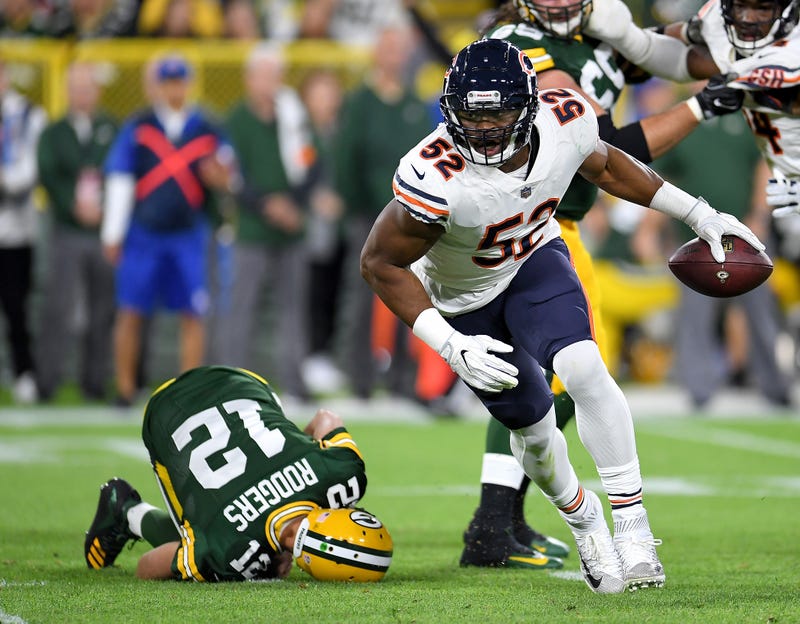 The Bears are a defensive team. Khalil Mack solidifies that himself as he was able to amass 12.5 sacks in the 2018 campaign. They also added Ha-Ha Clinton Dix in the offseason as well as Buster Skrine. These additions only make this tough defense harder to crack. The 2018 Bears defense topped the league in points allowed and ranked 3rd overall in yards allowed. The success of the Bears will be determined by whether or not the defense can continue doing what they did in 2018. On Offense, Mitchell Trubisky just needs to not lose games. If he can be a successful game manager style quarterback they Bears should find themselves in the hunt for not only a playoff spot, but a chance at repeating atop the division.
The Bears were able to cruise to a divisional title in 2018 on a solid record against the other three teams. They finished with a 5-1 record against Green Bay, Minnesota, and Detroit. Their only loss was to Green Bay early in the season. The Bears are going to do everything in their power to hang on to the division in 2019 and it starts with taking care of the other 3 teams trying to steal that from them. I highly doubt we will see the Bears going 6-0 against the rest of the division, but a 4-2 record would be sufficient enough to set them up for a repeat title. Outside of the division, the Bears will host a handful of talented teams. They face New Orleans (Week 7), LA Chargers (8), NY Giants (12), Dallas (14), and Kansas City (16). The silver lining to this difficult grouping of games is the fact that both Minnesota and Green Bay will be facing LA, Dallas, and Kansas City on the road and Chicago gets to face them on their home turf. This gives Chicago an advantage as they work to fight off the Packers and Vikings. New Orleans and Drew Brees will be a difficult win, but last season's Cowboys proved that the Saints can be neutralized by the right defensive scheme. Chicago is talented enough to slow them down and come away victorious from this matchup if they play it right. The Chargers will be another difficult game especially considering how well they play on defense. Los Angeles' defensive strategy may be enough to neutralize any counter by the Bears since they won't be as potent on offense as the Chargers should be. New York should be overmatched heading into the Windy City and Chicago will need to take advantage of this one and pad the win column. Dallas is another tough defense that will threaten Chicago's momentum on their home field. Chicago's offense will need to maintain pace with Dak, Zeke, and the rest of the Dallas offense to take this game. Finally, in week 16 they welcome Kansas City and the superstar Patrick Mahomes. Only time will tell what each team will be playing for in week 16, but this could be a very entertaining late-season matchup. Their road schedule starts out weaker and gets stronger later in the year. They face off against Denver (Week 2), Washington (3), Oakland (5), Philadelphia (9), and LA Rams (11). Traveling to the Rocky Mountains early on will be a lot easier of a trip than it would be in December. I expect the Bears to hold an advantage in this matchup and come away with a win against the new-look Broncos. Washington is still fighting to get out of purgatory so a win against Chicago would be huge for them. Yet again, I see Chicago being favored in this matchup and should take advantage of the Redskins in DC. One last trip to Oakland before the Raiders move to Vegas wraps up the Bears schedule before their bye week. Chicago could very likely enter this game with a 4-0 record and would love nothing more than to get some much needed rest sitting with a perfect record. Mack and company should neutralize the Oakland offense and slide into their week off sitting well atop the division. Coming out of their bye week they get their homes games against the Saints and Chargers, which is then followed by their difficult road trip to Philadelphia. Philly beat Chicago last season by a point in the Wild Card round after a Cody Parkey missed field goal put a wrap on the Bears bid for more. This time around, Chicago looks to enact a bit of revenge and take down the Eagles on their home field. Finally, they will travel out west to face the defending conference champion LA Rams. The Rams only lost 1 game on their home turf in 2018, and they don't plan on allowing Chicago to come in and steal one this year.
Looking at the talent of all 4 teams in the division, I rank Chicago on top simply based on the athletes lined up on the defensive side of the ball. The Bears offense was sufficient enough to win games last year, and they could easily take a step forward this season and take this team much further. I anticipate a repeat division title for the Bears and a deeper playoff run than they made in 2018.
My Prediction: 10-6 (OVER 9.5 Wins)