The shocking news of Andrew Luck's early retirement has not only changed the outlook of the Indianapolis Colts in 2019, but it also drastically changed the landscape of the AFC South. Before the retirement the division favorites were Houston and Indianapolis. Now, we have Houston listed as the overall favorite, but the other two teams, Tennessee and Jacksonville, now have an opportunity to rise to the top and take advantage of a division that is wide open. Houston returns as the defending division champ with an electrifying quarterback in Deshaun Watson and a defense solidified with JJ Watt and Jadeveon Clowney. Indianapolis was primed to place their best supporting cast around Andrew Luck since he was drafted, but now shifts to relying on Jacoby Brisett to lead the Colts offense. Tennessee is fresh off a 9 win season and looking to make improvements in 2019 with second year head coach Mike Vrabel. Jacksonville has a brand new quarterback in Nick Foles and are hoping he can replicate some of the success he had in Philadelphia.
Indianapolis Colts
2019 Line: 7.5 Wins
2018 Record: 10-6 (6-2 Home, 4-4 Away)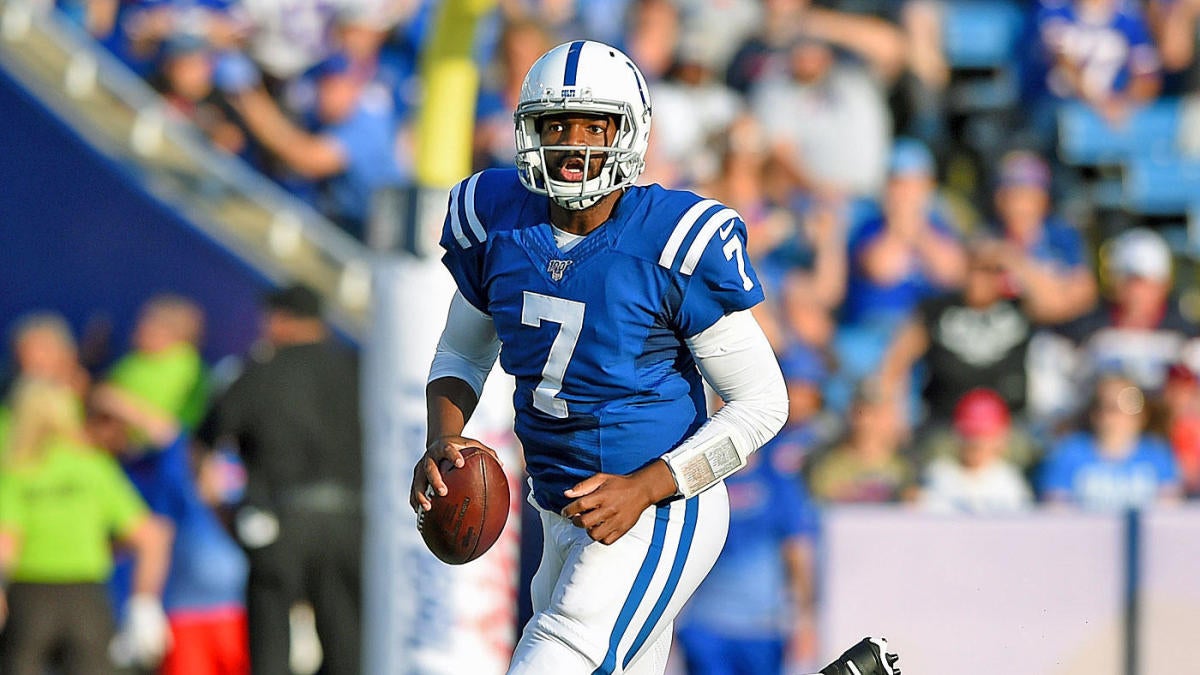 Frank Reich will have his work cut out for him in 2019, as the Colts look to navigate their way into the post-Andrew Luck era. Jacoby Brissett will need to be an efficient game manager and should be successful as long as he doesn't lose games for this team. Indianapolis had a defense in 2018 that ranked in the top ten is scoring, and are preparing to hold offenses down in similar fashion this season. Before the news of the Luck retirement, the win line for this team sat right around 9.5, but since the departure of their young leader, the line has dropped down to 7.5. Brissett will have a much better supporting cast this season than when he did a couple years ago filling in for Luck. For Colts fans, they are hoping the combination of an improved team and an offense that Brissett is familiar with will still leave this team in the hunt for the playoffs as the season winds down.
Within the division the Colts had success in 2018. They went 4-2 against the 3 other teams as well as taking a bonus game from Houston in the Wildcard round of the playoffs. Indianapolis split the season series with Jacksonville, but have only managed a 2-5 record in the past 7 meetings with the Jags. Indy split the regular season series with the Texans, but this wasn't enough to overtake Houston for the divisional crown. They did, however get the honors of ending Houston's season in the Wildcard round by taking that game 21-7. Tennessee was unable to win against the Colts in 2018 again, which makes the series even more lopsided. Indianapolis has won 13 out of the past 15 meetings with the Titans and have had a huge upper hand in the division against Tennessee because of this record. This season, it will be tough to get to 4 wins like last year. Indy's supporting staff will allow them to not get swept, but a 2-4 record would not be surprising for the Colts in their 2019 campaign. As the Colts look beyond the division they will face Atlanta (Week 3), Oakland (4), Denver (8), Miami (10), and Carolina (16). Atlanta will appear in Lucas Oil Stadium for the Colts home opener. Indy may be looking at an 0-2 hole by the time they face the Falcons if they can't pull together victories against either the Chargers or Titans in the first 2 weeks. Matt Ryan and company will match up well against the Colts and could be looking at a shootout that Indy may be outmatched in. Welcoming Oakland a week later will be a bit of a different story. The Raiders may be trending in the right direction, but may not be competing beyond the regular season this year. Indy will have an opportunity to get a win with this week 4 game. Facing Denver in Week 8 will pair up 2 teams that could end up being very similar. I see both Indianapolis and Denver finishing in the middle of the pack, so this game could provide some separation in the standings. Meeting Miami in Week 10 should be another game the Colts will be favored in. Miami has a lot of holes in their roster and despite making some offseason moves, should remain in the basement for another year or two. Finally, the Colts will host Carolina in Week 16 of the regular season. In 2018, Cam Newton was shut down at that point, so who knows what will be in store for the Panthers this time around. If Cam remains healthy throughout the year and the Panthers are competitive then I see Indy taking a loss. However, the Panthers are not the same team when Cam is out. If he sits, the Colts have another great shot at grabbing a win. On the road in 2018 the Colts face LA Chargers (Week 1), Kansas City (5), Pittsburgh (9), Tampa Bay (14), and New Orleans (15). This group of road games will be significantly harder than what they face back home. The Chargers should contend for the playoffs and potentially their division. Kansas City is planning on making a Super Bowl run in 2019 and are fantastic at protecting their home field. Despite having a down year, the Steelers are traditionally very difficult to beat on their home field as well. Tampa Bay may be one of the few winnable road games outside of the division for this Colts team. Lastly, they travel down to New Orleans to face Drew Brees and a very potent offense in Week 15. Indy may very well go 1-4 against this group of teams, which will put them in jeopardy of winning beyond their 7.5 win line.
Obviously, the Colts outlook on the 2019 season was drastically changed when they found out Andrew Luck will not be returning to football. However, the other pieces in place throughout the roster will still keep this team in games. They have the ability to play above expectations, but a reasonable outlook keeps this team in the middle of the pack.
My Prediction: 7-9 (UNDER 7.5 Wins)
Tennessee Titans
2019 Line: 8 Wins
2018 Record: 9-7 (6-2 Home, 3-5 Away)
Tennessee was able to string together a relatively successful 2018 campaign under first year head coach Mike Vrabel. They finished with a 9-7 record and just missed out on a playoff berth. They enter 2019 with a new offensive coordinator in Arthur Smith as Matt LaFleur will now be leading the Green Bay Packers as their new head coach. Marcus Mariota will need to take a step forward this season if the Titans plan on competing for the division title. Mariota started 13 games last season, led the Titans to a 7-6 record, and threw for 11 touchdowns. In today's league, these numbers are anything but impressive. Since drafting Mariota out of Oregon back in 2015, the Titans have only made 1 playoff appearance. Titan fans are hoping to see more out of their team in 2019, as the window for Mariota's success is getting smaller with each passing year.
Tennessee had a decent year within the division in 2018 as they went 3-3. They were swept by the Colts, split the series with Houston, and took both games against Jacksonville. Moving into 2019, they are really hoping to break their slump against Indy. They are 2-13 in the past 15 games against Indianapolis. This may be the year that they can finally break through and take at least 1 game, if not both from the Colts. Jacksonville is a team that the Titans typically do well against. They have won 6 of 7 against the Jags and are hoping to continue the dominance. Jacksonville, however, should be much improved from last year and will play the Titans tough. Houston is the final team, and these two teams match up well against one another. They have split the season series for 3 consecutive seasons. Another 3-3 season within the division could be very likely for Tennessee. Outside of the division the Titans face the following teams at home: Buffalo (Week 5), LA Chargers (7), Tampa Bay (8), Kansas City (10), and New Orleans (16). Buffalo and Tampa Bay seem like the most likely wins out of this group. The Bills are a middle of the pack team, and Tampa Bay is still working their way to the middle. The Chargers, Chiefs, and Saints were all strong contenders last season who will likely be in the mix in 2019 for deep playoff pushes. Winning only 2 out of their 5 home games outside of the division will not bode well for a playoff push or for the division, but could definitely happen if Tennessee doesn't play beyond their typical level. The road games start with Cleveland (Week 1), then Atlanta (4), Denver (6), Carolina (9), and Oakland (14). The Browns will be one of their more difficult road games this year, as Cleveland will be much better. Both Atlanta and Carolins are planning on rebounding with strong seasons as well which will be tough for the Titans to crack through. Denver and Oakland seem like the most winnable from this group with the Broncos being a bit harder than the Raiders. Taking 2 from this group may end up being a likely outcome, but grabbing 3 or 4 of these road games sets Tennessee up nicely as they push for a playoff berth.
This Tennessee franchise seems like another one that has been stuck in purgatory for several years. Not good enough to make a real push for a championship, but not bad enough to get a top end draft pick. The 2019 slate of games may very well leave them in purgatory for another year. Titan fans will should be hopeful, as Mike Vrabel seems to be having a positive impact on this organization, but only time will tell if the results follow.
My Prediction: 7-9 (UNDER 8 Wins)
Jacksonville Jaguars
2019 Line: 8 Wins
2018 Record: 5-11 (3-5 Home, 2-6 Away)
Jacksonville shocked a lot of people in 2018 when they finished with a 5-11 record. The year before, the Jags reached the Conference Championship after finishing 10-6 in the regular season, so expectations were high for this team as they rolled into 2018. This year, the expectations will be tempered, but another 5-11 season will not be acceptable. They bring in veteran quarterback Nick Foles to lead this offense in place of the inefficient Blake Bortles. Foles and power running back Leonard Fournette intend to give the Jags some life after ranking near the bottom of the league in points scored and yards allowed (31st and 27th). Defensively, this unit will be near the top of the league yet again. Jalen Ramsey, Calais Campbell, and first round pick Josh Allen will give plenty of offensive coordinators headaches in 2019.
Jacksonville struggled against divisional teams in 2018. They were only able to come up with 1 win within the division which was a huge step back from 2017 when they went 4-2 against the other 3 squads. The Jags were swept by both the Titans and the Texans. The 1 win they were able to scrape together was against the Colts in Week 13. In 2019, the Jags will need to improve and at least put together a .500 record within the division to give themselves a chance. If they can split the respective series against all 3 other teams they will have already made an improvement on last years disappointment. Outside of the division, the Jags have a difficult schedule at home. They face Kansas City (Week 1), New Orleans (6), NY Jets (8), Tampa Bay (13), and LA Chargers (14). The Chiefs, Saints, and Chargers will all be teams that are going to be tough to beat. They have lost 4 straight against KC, have not beat New Orleans since 2003, and are 1-6 against the Chargers in their past 7 meetings. New York and Tampa Bay are the games that Jacksonville has the best chance of coming away victorious. On the road, Jacksonville will face Denver (Week 4), Carolina (5), Cincinnati (7), Oakland (15), and Atlanta (16). The Broncos, Panthers, and Falcons will be the toughest tests, but I can see the Jags taking at least 1 of theses games, if not 2. Cincinnati and Oakland are lower tiered opponents, and if Nick Foles and company improve their offense as everyone hopes, Jacksonville should be able to take care of these teams.
As things get rolling in 2019, I feel like this Jacksonville team will get off to a slow start. I can easily see them starting the season with an 0-2 record. After that though, I am picturing this team rallying together and finishing off strong. They could even contend for the AFC South title if the Offense can figure out how to score some points. If this team can find balance and support their strong defense, then the Jags could end up being a very strong team.
My Prediction: 10-6 (OVER 8 Wins)
Houston Texans
2019 Line: 8.5 Wins
2018 Record: 11-5 (6-2 Home, 5-3 Away)
Houston put together a very successful 2018 campaign, but were ousted early on by divisional rival Indianapolis. Deshaun Watson leads this offensive unit who ranked 11th in points scored and 15th in yards earned. Watson paired with DeAndre Hopkins should provide plenty of entertainment value, along with a potent enough offense to hold serve within the division. On the defensive side of the ball JJ Watt comes into 2019 healthy and ready to lead a unit that ranked in the top 5 for points allowed. JaDeveon Clowney currently has not yet signed his franchise tag, so his status remains unknown. Not having Clowney suiting up would be a huge hit for this team, but I believe that they can still be an effective unit if Clowney chooses not to return to the field. This Texans team was set to have heavy competition from Indianapolis as they moved through the season within the division, however because of the Luck retirement the power has shifted back to Texas and Houston will look to take advantage of that as they make a playoff push.
The Texans shared the best regular season record within the division with Indianapolis last season as they posted a 4-2 record. Houston was able to win one more outside of the division that the Colts which resulted in claiming the AFC South. Houston will have a little extra motivation to stick it to the Colts, as the team from Indiana knocked them out of the playoffs in the Wildcard round. Tennessee and Houston seem to be locked into splitting the season series as they have done it for 3 straight years. Jacksonville was not able to muster a win the Texans in 2018, but should take a step forward this season. A likely outcome for Houston within the division in 2019 is a 4-2 or 5-1 record. Moving outside the Division they will host Carolina (Week 4), Atlanta (5), Oakland (8), New England (13), and Denver (14). Carolina and Atlanta, as stated in the above previews, are both teams coming off of down years. They should both be much improved if the injuries hold off, but these are both games that Houston will be looking to win and make a statement with. Oakland and Denver seem much more winnable, with Denver being slightly harder than their divisional rival Oakland. New England is a completely different story as Houston welcomes them to the Lone Star State in Week 13. The defending champs struggled on the road in 2018, but the Patriots are still the Patriots. Taking 3 out of the 5 games in this set would be a decent run, but the Texans will be shooting for more than just 60% at home. On the road the Texans will face New Orleans (Week 1), LA Chargers (3), Kansas City (6), Baltimore (11), and Tampa Bay (16). Four of these five games are against playoff teams from 2018. The Saints, Chargers, Chiefs, and Ravens all pose a significant threat to Houston as they all will be good teams and they all have great records on their home fields. Tampa Bay late in the year might be the only salvageable game for Houston. The road schedule for this team will either allow them to rise up and make a huge statement against some heavy hitters, or it could drop them out of the playoff race early on.
This Houston team has a ton of potential in 2019 and enter the season with the favored betting lines to win the division. A tough schedule, especially on the road, will challenge this team. From what I have been able to pencil in going through this schedule the division may come down to a single game or two. Houston will be in for a battle all season long.
My Prediction: 9-7 (OVER 8.5 Wins)